Matthew Yglesias points out that you should move to Minneapolis-St. Paul:
The Bureau of Labor statistics is out with its latest metropolitan area unemployment figures and I'm proud to announce that of large (i.e., population over one million) American metropolitan areas the one with the lowest unemployment rate is Minneapolis-St. Paul.
It has long been the position of this blog that you should move to Minneapolis based on the high wages and low cost of living ...
Sadly, I was there last month and still know young people having a lot of trouble finding work. But at least their housing is very affordable.
Another drawback is that a bunch of evil (probably conservative) rich people on the Minnesota Orchestra board would rather smash the entire world-class organization than lose a fight with a union of musicians:
Minnesota Orchestra management hoped the 2012-2013 season would be the year of a tough contract negotiation settled quickly, with wounds salved by the opening of the new and improved orchestra hall.
Instead, the new hall has become a big stick which musicians have used to beat their message that management is spending millions on a building while trying to cut their salaries by a third.
... Perhaps the biggest miscalculation has been the popular belief in the orchestra world that the lack of job openings at top orchestras would mean few Minnesota Orchestra musicians would be able to carry out their threat to leave ... Musicians say more than 20 players are leaving the Minnesota Orchestra to work elsewhere...
... That's even before considering the other elephant in the room: Music director Osmo Vanska's threat to resign if an agreement isn't reached by September. Like many of the observers MPR approached, McManus expects Vanska will leave.
"I would be surprised if that's not the case." McManus said.
Many people consider Vanska the orchestra's franchise player -- the individual responsible for raising the orchestra's profile internationally and making it one of the best bands in the world.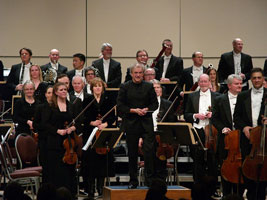 -- Minnesota Orchestra music director Osmo Vanska and musicians receive a standing ovation during a concert celebrating a Grammy nomination at the Minneapolis Convention Center on Friday, Feb. 1, 2013. The Minnesota Orchestra lockout is going on ten months with no end in sight for the musicians, management and audience. (MPR Photo/Euan Kerr)