They have had to start a new colour code to allow 520C!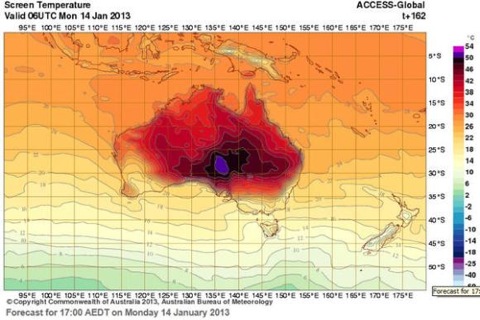 Australia is gripped by a massive heatwave, records are tumbling and fires are burning across the continent. I'm not going to attempt a comprehensive post on the subject — events are moving too fast — but I would like to note a few things. The Bureau of Meteorology forecast chart above (courtesy of Watching The Deniers) for next Monday has forced BOM to add new colours to the hot end of the range, to allow for forecast temperatures over 52ºC — well above the previous national record high of 50.7ºC. Meanwhile the current heatwave has already set a new record for the number of consecutive days where the national average temperature has exceeded 39ºC — now running at seven days, with the heat forecast to continue. That's the average temperature for the whole of the continent, which is no small place. The previous record was four consecutive days, set in 1973.
The formidable Gina Rinehart continues to fight on the denial side. (She also wants Australians to work for $2/day). And Lord Monckton is up to his usual tricks in the colonies.
The Sydney Morning Herald is blunt.
'We know that global climate doesn't respond monotonically – it does go up and down with natural variation. That's why some years are hotter than others because of a range of factors. But we're getting many more hot records than we're getting cold records. That's not an issue that is explained away by natural variation.''
Australia's climate is based on an interplay of many factors including regional and local weather patterns, El Nino and La Nina climate cycles and the Indian Ocean dipole, all superimposed on the greenhouse gas-driven warming trend.

---

"Those of us who spend our days trawling – and contributing to – the scientific literature on climate change are becoming increasingly gloomy about the future of human civilisation,'' said Liz Hanna, convener of the human health division at the Australian National University's Climate Change Adaptation Network.
''We are well past the time of niceties, of avoiding the dire nature of what is unfolding, and politely trying not to scare the public. The unparalleled setting of new heat extremes is forcing the continual upwards trending of warming predictions for the future, and the timescale is contracting.''
Links via DeSmogBlog