Both left and right seem to agree about one thing: rich people tend to invest more, and consume proportionally less than middle class or poor people do.
This is the right's argument for tax cuts for the rich: it lets them invest more, and that creates jobs.
It is also the left's argument for various kinds of stimulus spending like unemployment extensions: get the money into the hands of people without money, who have to consume. It is demand that our economy needs now, not supply.
What if both sides are right? What if we need both supply and demand to have a healthy, churning economy? What if we need enough capital concentration to loan and invest into new business and innovation, but we also need enough wealth distribution to have a healthy consumer class to provide demand?
How could we test such a notion? Well, what maladies would we expect in an economy without enough demand? Low interest rates because there is a lot of investment money available. However, without enough demand, there is not enough production, thus not enough jobs, which viciously circles back into not enough demand. Too many people saving, not enough spending. In other words, the zero bound.
What maladies would we expect in an economy without enough capital concentration? Very high interest rates impinging business formation, leading to lower employment. Too much demand chasing not enough goods, leading to inflation. And inflation discouraging saving and lending, which vicious circles back into lower business investment. In other words, stagflation.
Does inequality have any corelation with these maladies? Well, yes.

As you can see, peaks of inequality seem to coincide perfectly with the Great Depression and the Great Recession. And the lows of inequality seem to coincide with the stagflation of the 70s and early 80s. Can we see co-relations with interest rates too? Well, sure: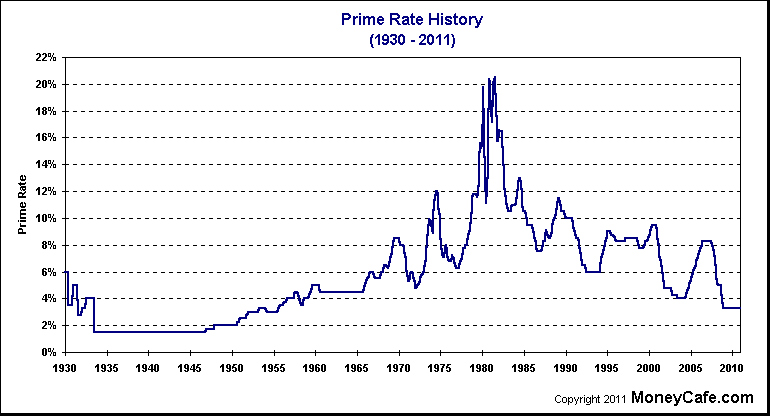 Admittedly, there is a lot more going on here than just inequality... monetary policy, trade flows, foreign investment, etc. I do not mean to identify a single driver of events -- the world is not that simple. What I do mean to suggest is that maybe as a society we need to go back to a happy medium, when there was enough wealth concentration to provide investment, but also enough wealth distribution to provide a consumer class. Perhaps there is an optimum level of inequality for a healthy economy.